Queer in a Time of Forced Migration
Agenda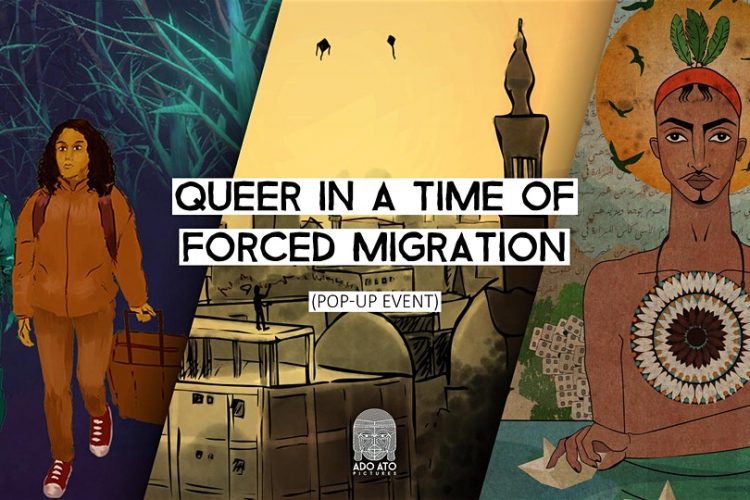 Immerse yourself in the stories of queer asylum seekers through an award-winning transmedia series (audio stories and VR experience).
New times call for new ways of storytelling.
This January, Gouden Kalf nominee Ado Ato Pictures brings "Queer in a Time of Forced Migration" – an animated transmedia experience that takes audiences within and beyond the intimate, real-life journeys of queer migrants from Egypt, Sudan and Saudi Arabia who leave their homes in pursuit of a safer life.
The exceptionally intimate pop-up event will let you dive into exclusive content that hasn't been revealed to the public yet. Be one of the first to experience the series.
The interpretation of the stories is depicted differently to provide a more impactful experience. The two-part series unfolds into:
They call me Asylum Seeker: exclusively exhibited for the first time, this intimate audio story follows the journeys of four LGBTQ people from their home countries in the Middle-East, through the asylum process, and into their processes of rebuilding their lives in their new countries and cultures.
Another Dream: a hybrid animated documentary & VR game that premiered at the Tribeca Film Festival and has screened at over 18 festivals since April 2019.
Audio stories ticket: includes a combination of two audio stories of your choice. Tickets have time slots to create the perfect flow of the content. Book the time slot that suits you best. Each time slot is 30 minutes long.
Virtual reality ticket: for further immersion, book the exclusive screening of "Another Dream". The award-winning hybrid animated documentary and VR game has a duration of 30 minutes and a very limited number of tickets are available. Scroll to find the right time slot for you.
Tickets
Limited tickets available and sold separately for the two components. Online-only. Get your tickets here and prepare yourself for an insightful and unexpected queer event in Amsterdam at the start of the new decade!