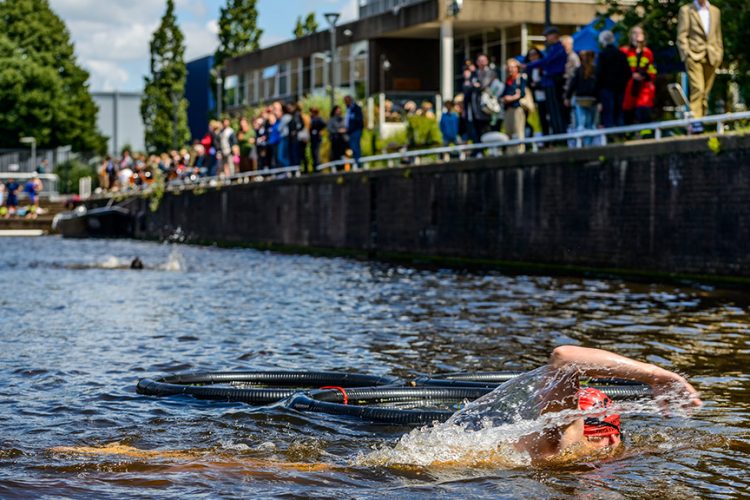 Exercising at the Marineterrein
Exercise is healthy and fun and it also brings together the different people who come to the Marineterrein. You can swim in the inner harbour, there's a big fitness garden, it's a nice stop to add to your jog, and you can participate in a variety of sports classes.
Swimming in the inner harbour
The Marineterrein's inner harbour is a popular place to swim for many Amsterdammers. Protected by the floating boardwalk, it's safe to swim laps, jump in to cool off after a hot sauna, or just have a paddle on a summer's day. While the harbour is not yet an official swimming area, the water quality is monitored closely, and you can see what the temperature of the water is and whether it's clean.
Recently, a standup paddleboarding (SUP) box was installed on the Marineterrein. The box contains 6 complete SUP sets available to rent so you don't have to lug your board, life vest and paddle along anytime you want to go supping.
Renting is easy. All you need to rent a SUP set is your phone and the Equip Sport app. Open the box using the app and take out a ready-to-use SUP set. There is even a watertight cover for your phone inside. Leave your clothes and any personal belongings in the box and you're ready to hit the water.
The Marineterrein fitness garden is located between buildings 024 and 025. The garden is always open and it is suitable for young and old and for beginners and advanced athletes alike. There are 4 different strength-training machines and 2 large climbing frames that you can use to train your muscles and improve your fitness in the open air.
The following equipment is available:
Power Pusher: for chest, shoulders and arms

CrossFit: for the entire body

RowFit: for buttocks, arms and shoulders

Twist Out: for stomach muscles and waist

Wall: for the entire body

Monkey bars: for the entire body.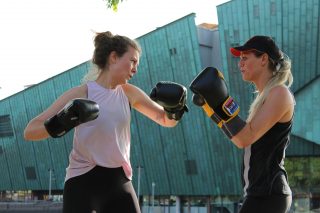 Sports classes
A number of sports clubs are active on the Marineterrein. For example, the boxing school Boksschool Bijlmerbajes. They teach boxing and kick boxing outdoors and help people get in good shape. The calendar shows all the scheduled sports classes that you can sign up for.